Who doesn't need more books to add to their To Be Read lists? Books that will take you to other worlds, days gone by, havens of retreat into Southern mountains, across oceans to dreamy locales
—
just to name a few.
I can't keep quiet about all these marvelous books slated on my towering To Be Read list at the moment. SO many talented women have stories releasing between now and June it's insanely happy for me to be cheering them on and watching what God will do with their stories. The bookish community is one like none other, friends, so I hope you enjoy browsing through a virtual bookstore of my most anticipated spring releases. There's something for everybody here! I'd love it if you'd comment and tell me which books you're pulled to so I can further geek out about them!
The Memory of You by Catherine West
March 28, 2017, Thomas Nelson
AMAZON | GOODREADS
Thirteen years ago, Natalie lost a part of herself when her twin sister died. Will traveling back to the family winery finally put the memory to rest, or will it completely destroy her?
When Natalie Mitchell learns her beloved grandfather has had a heart attack, she's forced to return to their family-owned winery in Sonoma, something she never intended to do. She's avoided her grandparents' sprawling home and all its memories since the summer her sister died—the awful summer Natalie's nightmares began. But the winery is failing, and Natalie's father wants her to shut it down. As the majority shareholder, she has the power to do so.
And Natalie never says no to her father.
Tanner Collins, the vintner on Maoilios, is trying to salvage a bad season and put the Mitchell family's winery back in business. When Natalie Mitchell shows up, Tanner sees his future about to be crushed. Natalie intends to close the gates, unless he can convince her otherwise. But the Natalie he remembers from childhood is long gone, and he's not so sure he likes the woman she's become. Still, the haunted look she wears hints at secrets he wants to unearth. He soon discovers that on the night her sister died, the real Natalie died too. And Tanner must do whatever it takes to resurrect her.
But finding freedom from the past means facing it.
Just the Way You Are by Pepper Basham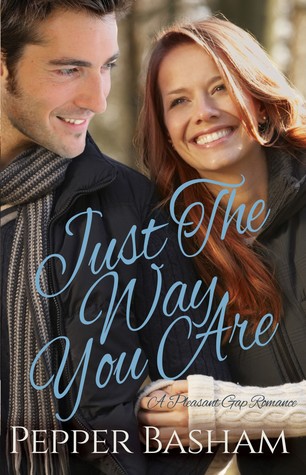 Single mom, Eisley Barrett, prefers to keep romance safely housed within a centuries-old mystery, but when she travels to England to unearth the secret, an actor with a sordid past offers her reluctant heart a very different type of discovery.
Wes Harrison has a past he's ashamed to confess. Suspicious and cynical, he's managed to avoid romantic entanglements since a tragedy upended his career and life, that is until American Eisley Barrett comes along. Her authenticity and kindness upend his bitter assumptions and send his heart into unscripted territory.
When his past threatens to ruin a second chance at love, can some Appalachian matchmaking and letters from the grave salvage their unexpected romance?
Right Where We Belong
by Deborah Raney, Melissa Tagg and Courtney Walsh
April 17, 2017
AMAZON | GOODREADS
Whether in a quaint home bakery in Langhorne, Missouri,
a cozy boho coffee shop in Maple Valley, Iowa,
or a charming lakeside cottage in Sweethaven, Michigan,
love grows best in small towns just like this!
With No Reservations
by Laurie Tomlinson
May 9, 2017, Harlequin Heartwarming
What could well-known and wealthy Graham Cooper Jr. have in common with a blogger like Sloane Bradley, a woman with secrets she's kept firmly out of the public eye? That is, besides a love of food. Sloane still can't believe Cooper's the chef at the restaurant she's been assigned to promote. But she's boiling to prove to him that her "little blog" can put his place on the map. She can also fall head over heels for the guy, who has secrets of his own, it turns out…except for one thing. She can't get past the post-traumatic stress disorder that keeps her walled up in her home studio.
A Season to Dance by Patricia Beal
May 9, 2017, Bling! Romance
AMAZON | GOODREADS
Ballerina Ana Brassfield has her path to the stage of the Met in New York and her future with fiancé Peter Engberg all figured out—until her first love, renowned German dancer Claus Gert, shows up in Georgia to dance with her and win her back. Claus kisses her after a rehearsal, a kiss Peter witnesses from the darkened audience.
Convinced a kiss between Claus and Ana is more than a one-time mistake, Peter breaks off his engagement with Ana. Rejected by Peter, and knowing Claus is dancing at the Met soon, Ana decides to repave her path to her dream. With her 2002 Thunderbird and Baryshnikov, an old dog crippled by arthritis, she moves to Germany to be with Claus. But the ghost of his late wife, Ana's own memories of Peter, and the pressure of earning a spot in a large ballet company prove to be a high price for a shot at success.
All of You by Sarah Monzon
May 15, 2017, Radiant Publications
AMAZON | GOODREADS
Maryland, Present Day
Jacqueline Rogers can rebuild anything...except the shambles of her past. A restorer of vintage planes, she's worked hard to earn the reputation of being one of the guys. The last thing she needs is a former Navy pilot fighting his own inner demons stepping in to defend her from dangers she thought she'd outrun long ago. Some battles must be fought alone.
After a freak accident severs Lieutenant Michael "Finch" Carrington's dreams, as well as two limbs, he's left with nothing but a fragile faith and a duty-bound promise to watch out for his friend's baby sister. A promise she insists is as unnecessary as it is unappreciated. But when she turns the tables and begins to weld together the broken parts of his life, it may be his heart that is in need of protection.
England, 1942
With the world at war yet again, Alice Galloway rejects her father's traditional expectations and offers her piloting expertise to the Air Transport Auxiliary. She may be a woman in a man's world, but when she overhears key intelligence, she must find the strength to transcend boundaries and her own fears. Or countless people may die.
Sometimes the past reaches forward to bring hope to the future.
Count Me In
by Mikal Dawn
May 16, 2017, 121 Publishing House
GOODREADS
Allegra Spencer has been living a careful life. Her safe job as an accountant is bookended by going to church and the gym. Okay, sometimes the gym. Fine. She goes to church. And the coffee shop. She avoids risk at all cost, preferring to stay safe in her cozy condo. Until her accounting firm goes belly up and she's out of a job.
Tyler Hawk had a glorious career as a star NFL tight end. He retired on a high note and now lives a second dream of owning his own business and leading others on extreme outdoor adventures. But he needs help with his books—and his heart. When Allegra takes the job, sparks fly.
It's a case of safety zone versus danger zone, and in their minds, never the two shall meet.
Someplace Familiar

by Teresa Tysinger
May 30, 2017
GOODREADS
Artist Livy Johnson needs a fresh start. That's what a broken heart and forgotten dreams can do to a person. On little more than a whim, she reclaims her grandmother's old mountain cottage in quaint Laurel Cove, North Carolina and vows to restore its original charm. When she literally collides with childhood friend, Jack Bowdon, Livy wonders if she's back for an entirely different reason.
Jack can't believe his childhood crush is back. As the owner of Bowdon's Supplies, and once again the town's most eligible bachelor, he offers to help Livy with repairs. Together they embark on the project—and an undeniable whirlwind romance.
But it's not all smooth sailing. Can they survive the destructive pain of their pasts to discover God's grace waiting to renovate their hearts?
Bonus!
The Girl Who Could See
by Kara Swanson
June 1, 2017
AMAZON | GOODREADS
All her life Fern has been told she is blind to reality—but what if she is the only one who can truly see?
Fern Johnson is crazy. At least, that's what the doctors have claimed since her childhood. Now nineteen, and one step away from a psych ward, Fern struggles to survive in bustling Los Angeles. Desperate to appear "normal," she represses the young man flickering at the edge of her awareness—a blond warrior only she can see.
Tristan was Fern's childhood imaginary hero, saving her from monsters under her bed and outside her walls. As she grew up and his secret world continued to bleed into hers, however, it only caused catastrophe. But, when the city is rocked by the unexplainable, Fern is forced to consider the possibility that this young man isn't a hallucination after all—and that the creature who decimated his world may be coming for hers.